Scaling the assembly of cargo bikes
Scaling the assembly of cargo bikes
The benefits of scaling assembly
As Head of Assembly, Mischa Hoogeveen has witnessed an impressive transition at Urban Arrow. With the mission of making urban transport more sustainable, Urban Arrow has developed the business Cargo and Tender variants alongside the Family cargo bikes. This is expanding their impact on urban transport, and they now supply various leading businesses inside and outside the Netherlands.
Urban Arrow moved to larger premises in 2021 so that they can scale assembly of cargo bikes for business use. We talked to Mischa about the process and the benefits of in-house assembly.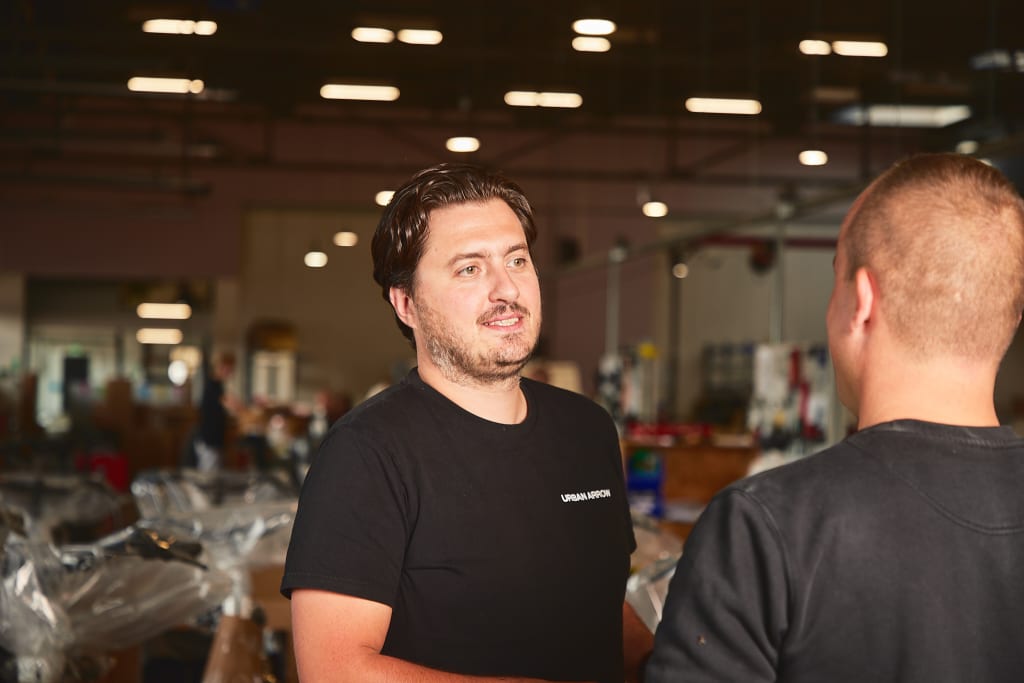 Who are you and how does your assembly process work?
My name is Mischa Hoogeveen, and I have been working as Head of Assembly at Urban Arrow since 2021. My team now consists of 21 technicians. Urban Arrow moved to larger premises in 2021 in order to be able to carry out the assembly process on our own site.
Respond to business customer wishes faster.

Mischa Hoogeveen
Urban Arrow wanted to do this because they want a greater grip on the process and therefore be able to respond to business customer wishes faster. This allows us to deal with the business customer's needs flexibly, safeguard quality and continue to innovate.
Do you assemble all the bikes yourself in Amsterdam?
Yes, we assemble the Tender and Cargo cargo bikes in-house. These are the bikes that are particularly used for business purposes. The majority of the assembly of the Family bikes is carried out by assembly partners. We check their work in the Netherlands. In Amsterdam we spend most of our time building bikes for our business customers.
The work ranges from equipping the workshop, fitting tyres, assembling bike stands, and converting the box through to building a complete bike. We fit all the loose parts on the cargo bikes and thereby retain control over the quality ourselves. We have grown massively and are always looking for good technicians who want to help build the business with care and dedication.
… safeguard the quality goals even better.

Mischa Hoogeveen
What are the benefits of in-house assembly?
The fact that you control the entire process, was the decisive reason for us to start carrying out the assembly ourselves. It makes you much more flexible for business customers, and you can safeguard the quality goals even better. We are literally hands-on with the bikes, so that we can test and change more rapidly. We also tinker with new possibilities ourselves, and are not dependent on external partners' processes and turnaround times. That makes us very responsive, and we continue to optimise processes.
We are constantly learning, which means we keep developing. That's what makes working here such fun!
How do you safeguard quality within assembly process?
We adopt a four eyes principle, and use torque wrenches to tighten bolts. The torque wrenches tighten the bolt with a preset force, so that nothing can go wrong.
In order to apply the four eyes principle, we work in different 'stations'. Final checks are conducted randomly at the end of the line. The checks are carried out on the basis of a mathematical model and are performed by our Quality Team. This is an independent and self-managed team that uses its own checklists. For example, they measure the tightening torque of the nuts, and calibrate the torque wrenches every two weeks. The Quality Team also check our semi-finished products so that we can also guarantee their safety and quality.
Distribution centres swap their delivery vans
for our green two and three wheelers.

Mischa Hoogveen
What are the trends and developments with regard to business transport in the B2B market?
The market is developing incredibly rapidly. We are particularly seeing a massive rise in demand for the Cargo bikes among businesses. More and more distribution centres are opting to swap their delivery vans for our green two and three wheelers. These include Coolblue and courier services such as DHL. But engineers who work in town are also opting for the electric cargo bike with tool station. That gives them significant savings in terms of parking charges and in the time required for finding a parking space. They also don't waste time stuck in congestion, so that they can serve their customers more quickly and do more work in less time.
Personalisation is an important element nowadays. Businesses like to have their cargo bikes customised, and that is why Urban Arrow offers the option of supplying the boxes separately from the bike. Boxes can then be personalised later with their own logo and house style colours. That makes their bike and brand visible on the streets.
How does Urban Arrow keep manufacturing sustainably?
Selecting the right raw materials and parts is a massive challenge for us. We are striving for a sustainable concept, and that means we try to pick up on the latest developments. We move with the times and adapt our working methods and materials to this.
Such a big challenge requires a flexible and committed team. We're keen to expand the team with even more enthusiastic people who love our brand. People who do their work with pleasure and focus and who are good with their hands. In that way we will continue to inspire, stimulate and challenge one another. That is how we can enable Urban Arrow to grow together.