Business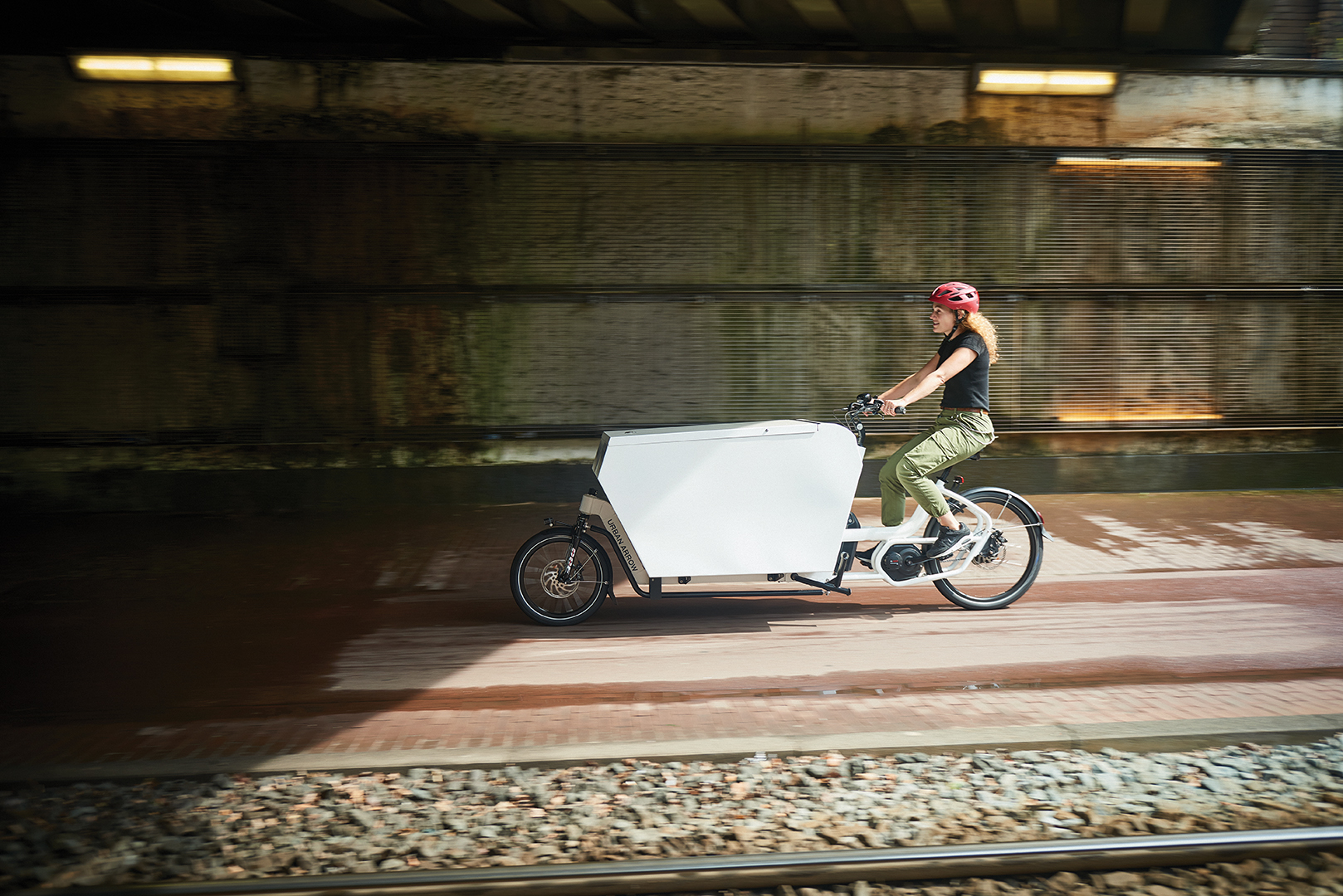 Electrify your business
Riding an electric cargo bike is the best way to carry your business into densely populated urban areas. Over time you'll make countless pick-ups and deliveries and along the way you'll discover places you would have never otherwise known the existence of. Cycling through the narrow streets and alleyways you'll enrich your bond with the infrastructural fabric of the city you live and work in.
Cargo
Takes your business anywhere.
Tender
The three-wheeler that transports a boatload.
Shorty Business
This compact giant has hidden depths.
Last Mile perfection
Cargo bikes can penetrate areas unaccessible to traditional delivery vehicles. No street too narrow, no turn too tight. And, given that the average load carried in a delivery van is merely 150kg, it is just more efficient to encase those tiny amounts of cargo in light and fast electric cargo bikes that take up a fraction of the road space, are less resource intensive to produce and overall the more environmentally sound choice. Especially in high density urban areas where space is limited and time is of the essence.
Sectors
Cycling is gaining traction in many sectors that conduct their business in densely populated urban areas. The number of successful applications of the electric cargo bike are vast and as a mode of transport cargo bikes have been proven to work effectively in a wide variety of contexts. Distribution hubs are finding their way closer to the city centers and from there the last mile to consumer is made using zero emission electric cargo bikes.
Post & parcel
Moving post & parcels from industrial hubs outside city limits to smaller hubs or directly to consumer? There are more solutions than you might be familiar with.
Service & facility
In the city all sorts of buildings and installations are serviced frequently. There are custom built bikes available for those specific tasks.
eCommerce (fulfilment)
The rise of drop shipping practices has increased the need for close-meshed order fulfilment. Again, cargo bikes can play a key role in urban areas.
SME retail
Small specialty stores embrace the electric cargo bike to distribute products to their customers. Contact us today.
Medical sector
A variety of medical services utilize the speed and efficiency of the electric cargo bike within the city.
The essential mind shift
City cycle logistics requires an open mindset and an ability to rethink business as usual. The ways of the past will not guarantee a successful business model for the future. The ever increasing environmental awareness creates a very different political landscape which, in turn, leads to new high level stimulus packages for alternate modes of transport. Fossil fuel within city limits will end someday and when that happens you will be prepared.
Frontrunners in the mobility transition
There are a lot of advantages to riding an Urban Arrow. And the Arrow is definitely better than a delivery van.

Asaiah – Absolutely Couriers
All boxes for the Cargo L
Craft
Toploader L
Alu box L
Flightcase L
material
Astraboard & Aluminium
Flightcase L
+ Level
material
Astraboard & Aluminium
Flightcase for Dogs
material
Astraboard & Aluminium