Delicious Jopen craft beer, delivered by cargo bike
Delicious Jopen craft beer, delivered by cargo bike
The beers of Jopen – who doesn't know them. Jopen, named after the large 112-litre barrels in which Haarlems beer used to be transported, is the largest independent craft beer brewer in the Netherlands. And independence also translates into Jopen delivering beer by electric cargo bike. Fresh and smooth beer delivery by electric cargo bike instead of traffic jams and vans in the city.
Tell us, how do you guys use the cargo bike?
From hoppy IPAs to dark heavies, they're all to choose from on the shelf. We speak with Michelle Le Fevre – Trade Marketer at Jopen – about how the electric cargo bike delivers beer. During the first covid period, we decided to provide our beloved guests of Jopenkerk with beers for home. There was the option to place an order and pick it up at the Jopenkerk. The second option was for us to deliver the beers by electric cargo bike. We could provide many craft beer lovers with cold and fresh Jopen beer.
We now use the electric cargo bike daily
to supply our local retailers.

Michelle Le Fevre – Trade Marketeer at Jopen
Now we also supply various liquor stores, wholesalers but also supermarkets like the Albert Heijn. The colleagues love that they can work at the Jopenkerk and also bike around town. The electric cargo bike is then full of Jopen beer. When the customer arrives, we personally make sure that the shelves are refilled and that the Jopen beers look great.
Why do you use an electric cargo bike?
We chose the Urban Arrow Cargo L with Flightcase so we can easily maneuver through the city and maneuver and we can get to the customer faster. It is also a more sustainable solution for us than using a bus.
The advantage is that we no longer have to look for a parking spot. We can unload the beer directly in front of the customer's door. On the cargo bike you are out in the fresh air and you can cycle past all the traffic jams in Haarlem. It gives you a bit of freedom because it is always possible to cycle past a customer who needs our help and supply at the last minute.
Also we can also hire employees without a license for the position of merchandiser, this provides great work opportunities for people without a driver's license.
The Urban Arrow electric bike
does not require a driver's license.

Jopen bier
What reactions did you guys get?
The reactions we get are always positive! The customers find it unexpected that we come with an electric cargo bike with so many boxes of beer coming out of it. They are always very happy that we can come and deliver extra beer quickly. Of course, our brand awareness also grows because so many people see our bikes.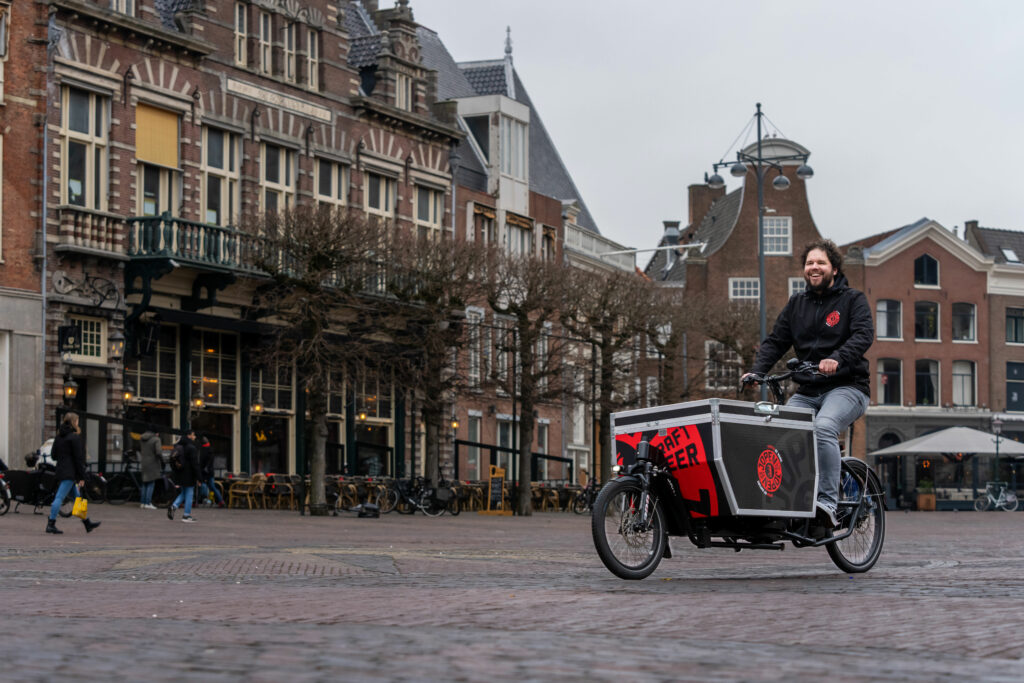 What are the experiences with electric cargo bike?
For us, it gives us a bit of freedom in terms of planning and efficiency. We are flexible in the city and can pass over all. Even though the weather is not always great in the Netherlands, it is much better to be on a bike than in a bus in a traffic jam.
Urban Arrow Cargo for your business?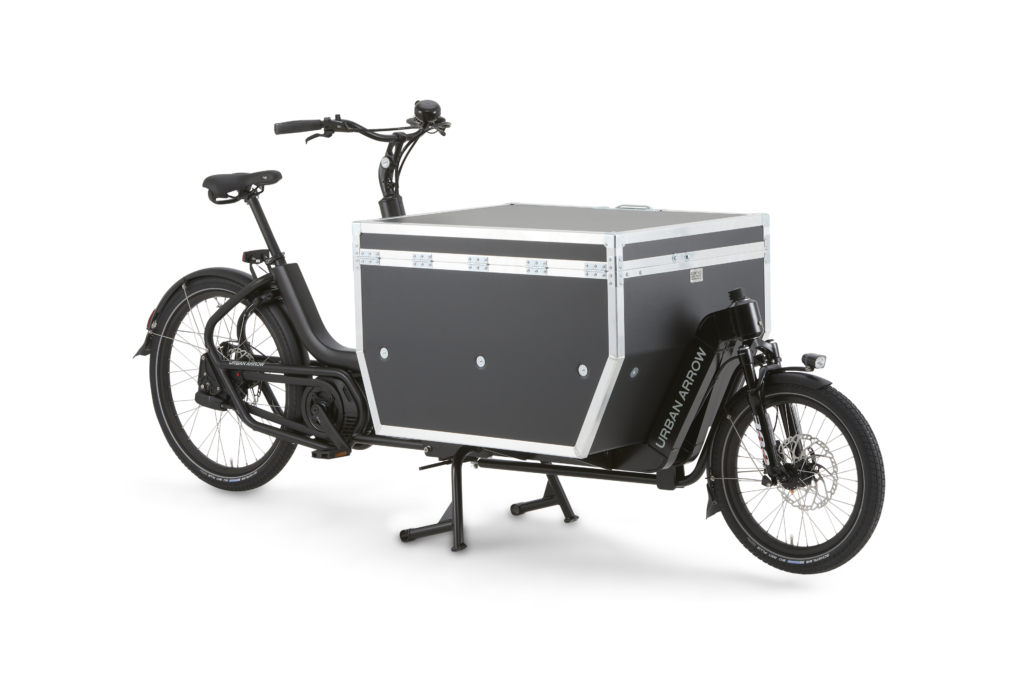 What are the distances you ride per trip?
The distances we cycle vary a lot. We mainly use the bike in and around Haarlem. We cycle up and down 5 days a week from our brewery in the Waarderpolder to the Jopen church in the center of Haarlem and between our customers. Added together, that's quite a lot of kilometers.
Cargo bikes in your business
At Urban Arrow we are thrilled about progressive business ready to implement Urban Arrow cargo bikes in their business operations. Do you want to increase your brand awareness while you beat traffic and cycle your products to customers? Reach out to us and we will provide a product demo.