Urban Arrow x Absolutely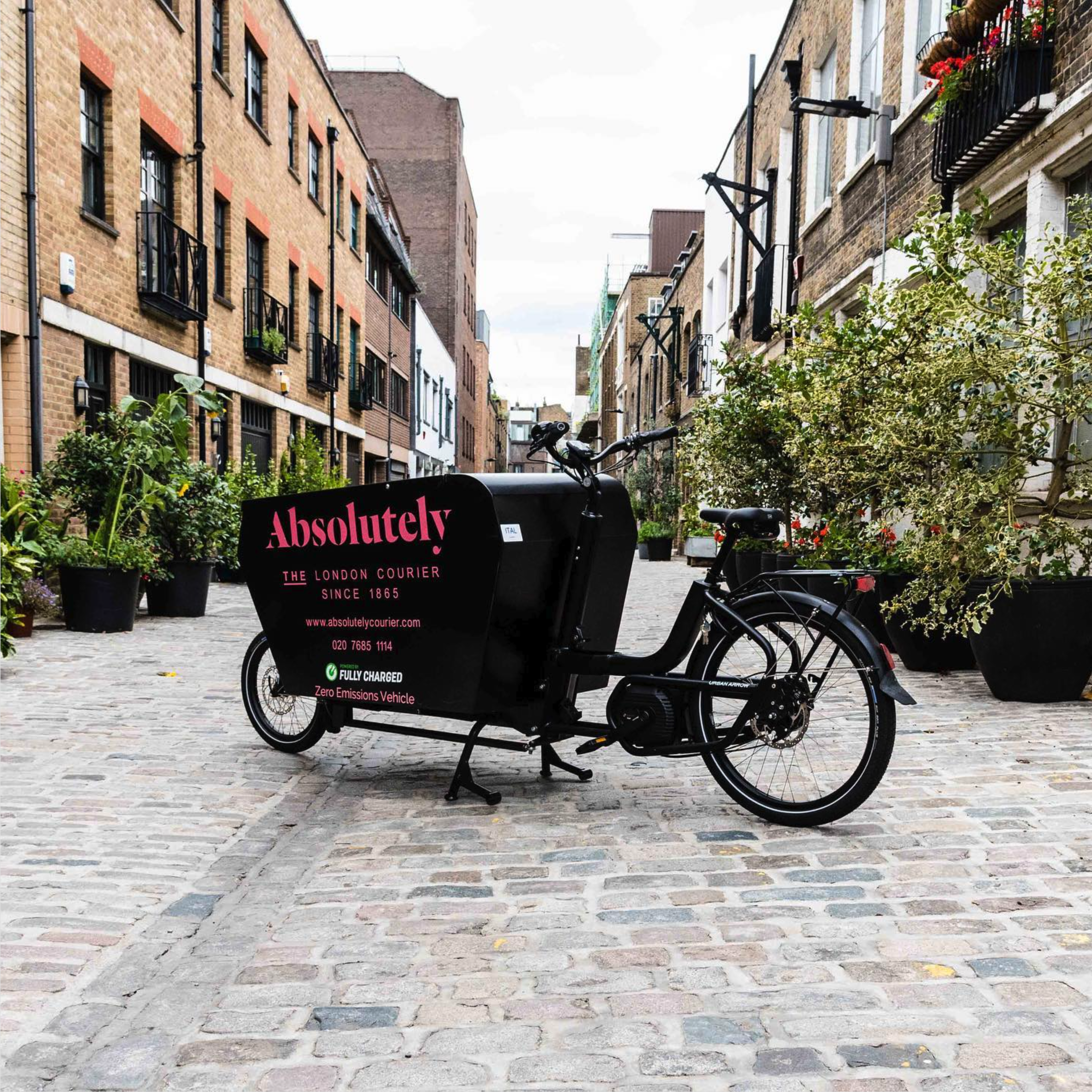 Urban Arrow x Absolutely
Absolutely better than a van.
Absolutely courier ride Urban Arrow cargo bikes. The cargo bike: an environmentally-friendly success for Absolutely in London. Learn about the benefits of using a cargo bike in London.
Cargo bikes are going to rule the city.

Doug Hutchinson
Cargo bikes are the perfect solution
International, daily and conditioned deliveries are what Absolutely Couriers specialises in. In a history spanning more than 150 years the company has grown into a successful business with over 250 couriers. With five branches in the heart of London, they are always on the road bringing parcels to their final destination. With its Eco-Hub branch Absolutely Careers has changed course so that it can fulfil its ambition to be an ambassador for carbon neutrality. The Absolutely courier company has therefore chosen the fast electric Urban Arrow cargo bikes. Doug Hutchinson, Network Development Director, said that this is the perfect solution for them to cover the miles in an environmentally-conscious way. They even recently opened a new micro-hub in East London, dedicated just to cargo bikes.
Electric vans get stuck in traffic too
"London is known for its busy traffic and congestion in the city, but our customers don't care about that. They expect to receive the parcel, whether or not there's a traffic jam. So we had to come up with an innovative solution." It didn't take long for him to spot the cargo bikes from Urban Arrow. With these vehicles the couriers can move quickly and pleasantly through the busy city. "With fourwheelers – even electric – you quickly experience the same problem as vans: they get stuck in traffic. So we were looking for a vehicle that is clean and with which our couriers can travel through the city rapidly. Because otherwise we could just have bought more vans!"
The fact that the cargo bikes also offer secure, dry and environmentally-friendly transportation of the parcels was the decisive factor. This aspect has even proved to be a reason for new customers to choose Absolutely; they're incredibly enthusiastic about the sustainable delivery method.
Faster than vans
Delivering parcels up to 250 kg sustainably is not the only benefit. The easy and fast delivery method also saves Absolutely Couriers time. "Our cargo bikes can travel at up to 25 km/hour by using cycle paths, busy and smaller roads and so avoid traffic jams. On an Urban Arrow our couriers are 2.5 times faster than a van." A speedy way of working that also saves 50 tons of carbon dioxide per year!
Delivering with cargo bikes not only benefits the environment, but our riders are also happier and more relaxed.

Doug Hutchinson
Carbon-neutral approach
After more than 150 years the company is still striving for more, better and greener. "We want to expand our hubs throughout London in order to increase the reach of our ever-growing electric vehicle fleet. Preferably with a 60% increase by the end of the year." Having now covered more than 110,000 miles on Urban Arrows, Absolutely Couriers can still see room for improvement. "We are doing our best to adopt a carbon-neutral approach for the first and last mile where possible." And they have made big steps towards that with the Urban Arrows.