Family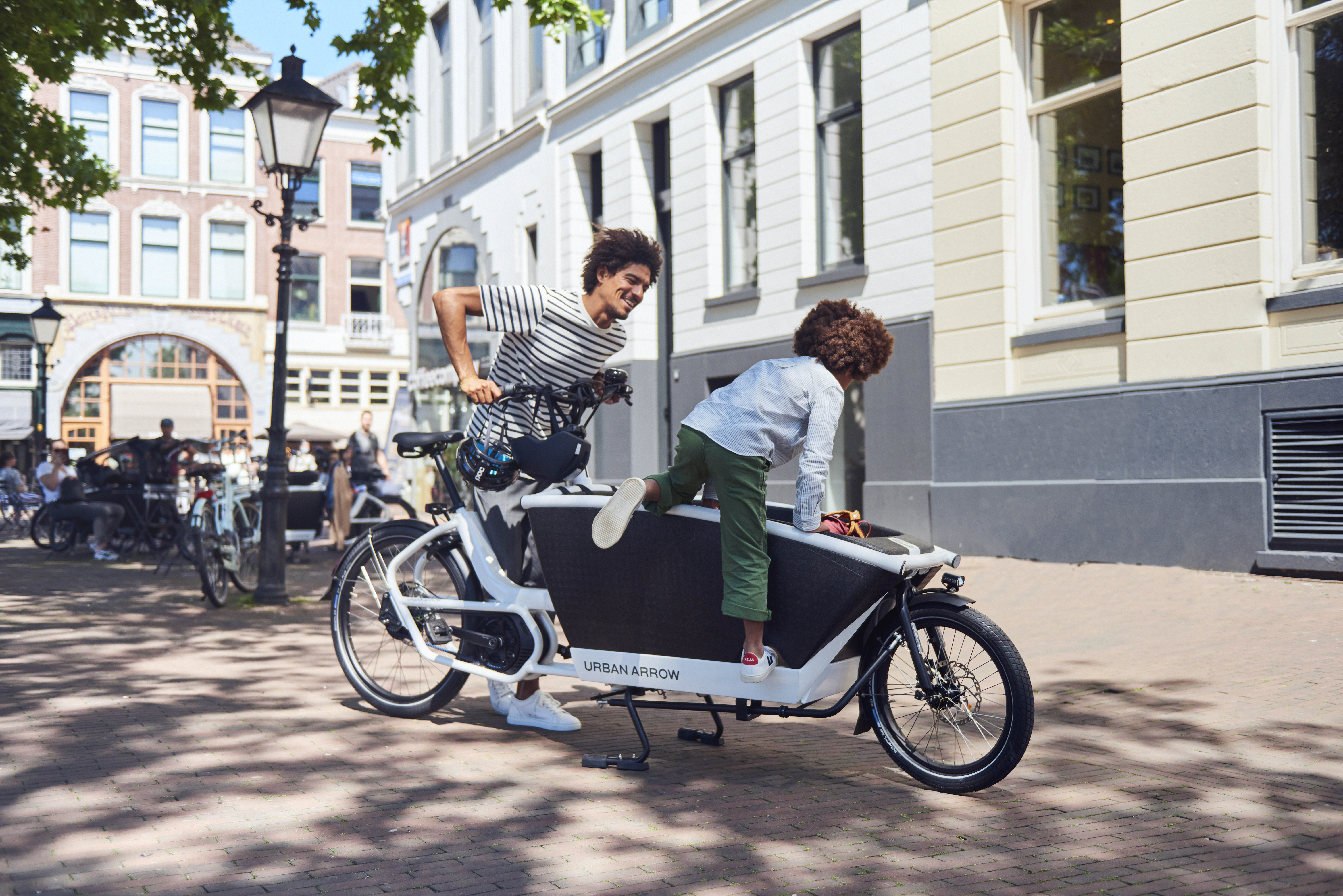 Whatever moves your family
At Urban Arrow, we are frontrunners in urban mobility. Inspired to build the urban vehicle of the future, we set out to design an electric cargo bike that will never let you down and is easy to handle in traffic. Robust yet agile, durable yet light. We always keep iterating on our designs so as to optimise and upgrade the rider experience. After a decade of optimisation, we're proud to say the design of the Family still looks essentially the same but at the same time feels incredibly more balanced and well thought out than it's first version did in 2010.
Family
Turn rush hour into fun hour.
The winner has a treat for you
Buy an Urban Arrow Family before July 31, 2023 and receive an accessory pack including Raincover Plus, Extra bench and Floor mat (a value of €597) as a gift! Visit an Urban Arrow dealer near you for more information.
Urban Arrow Connected
Keep your Urban Arrow Connected. Connect the GPS+ module to the new Urban Arrow app. This protects you against thieves and means you are always connected to your bike.
More than the sum of its parts
An Urban Arrow is always manufactured with great attention to detail and quality. We incorporate products by renowned bike part manufacturers such as Bosch, enviolo, Magura, Tektro, Schwalbe and Lezyne in our cargo bike designs. By using those parts and mixing it up with some rare Urban Arrow engineering magic we create a synergy that amounts to more than the sum of its parts. Don't just take our word for it, ride one of our bikes…
ePowered by Bosch
All Urban Arrow cargo bikes are powered by the Bosch eBike System. The three drive units are designed for different types of geographical terrain, infrastructure and transport. Seamless or powerful – most importantly: natural. Drive units from Bosch eBike Systems give you a unique riding sensation. Three sensors measure the rider's pedal power, cadence and speed over 1,000 times per second. This facilitates an organic interplay between you and your Urban Arrow.
Something for everyone
Both the Shorty and the Family come in a variety of builds. That way there is always an Urban Arrow that is right for you, right for the way you intend to use your electric cargo bike and right for whatever your geographic environment may look like.
Optimize? Accessorize!
There is a star-studded accessory line-up available when it comes to finetuning your Urban Arrow. The Family and Shorty bikes can both be transformed to accomodate for completely new use cases. You could install extra children's seats, weatherproof your bike with one of the various rain covers or decide you'd rather have a lockable hood on your Shorty. We are always working on new accessories to further complement your Urban Arrow cycling experience and we are always open to suggestions from our community of riders.